Show Details:
Dates: Tues 4th to Thur 6th June 2019
Times: Tues: 09.30~16.30 | Wed: 09.30~16.30 | Thur: 09.30~16.00
Venue: NEC, Hall 3, North Avenue, Birmingham, B40 1WT
Stand No: H16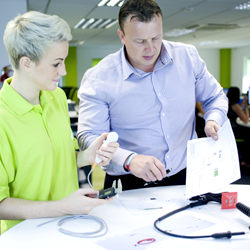 Join the CIE Electronics team as we demonstrate our unique Custom Connectivity Solutions at this year's SUBCON 2019 - the UK's premier Sub-Contract Manufacturing Supply Chain Show.
SUBCON 2019
'Subcon, Advanced Manufacturing Show and The Engineer Expo all come together in 2019 to deliver a unique and relevant event for the manufacturing and engineering industry. Bringing the best suppliers, latest innovations and practical advice to help build new partnerships and optimise business strategies.'
CIE's specialist Electronics Team will be on hand throughout the day to demonstrate many of our recent custom electronics design & manufacture projects and to discuss how we could help with your next project requirement.
THREE CO-LOCATED EVENTS, THREE DAYS, ONE COMPLETE MANUFACTURING SOLUTION
Meet world class suppliers who can help optimise your productivity and remain competitive in a global market
Source the latest solutions and innovations in in-house production, contract manufacturing services and product development
Network and build new business relationships throughout the UK manufacturing industry
Be inspired by industry leaders who will reveal stories behind some of the UK's most interesting engineering and manufacturing projects