---
Date & Time
Tuesday 4th December | Part 1: 10am - 1.00pm
Tuesday 4th December | Part 2: 2.00pm - 5.00pm
(Other Academy Subjects, Dates & Venues also available - click here for details)
Venue
CIE Academy, 3 Widdowson Close, Blenheim Industrial Estate, Bulwell, Nottingham, NG6 8WB
Certification
This academy qualifies all attendees for both AVIXA RU and CEDIA CEU renewal points. By attending this 1-day academy delegates will qualify for a total of 2.5 CTS, 2.5 CTS-D, 2.5 CTS-I AVIXA RU points, plus 2.5 CEDIA CEU points.
Course Overview
This free 1-day training academy - Audio-over-IP Installation Essentials - provides a hands-on introduction to the brand new AXIS range of I.P. connected Audio solutions and delivers a detailed, interactive understanding of the specification, configuration and installation of the latest solutions for public address and background music over an I.P. network.
Ideal for security, telecoms and AV professionals either looking to add professional audio systems design and installation to their portfolio/skillset or for audio professionals looking to migrate from analogue to I.P. audio systems.
Course Details
Duration: 1 Day (Part 1 AM | Part 2 PM)
Cost: Free of charge!
Aimed at: Security, access control, telecoms, AV and audio professionals.
Course Content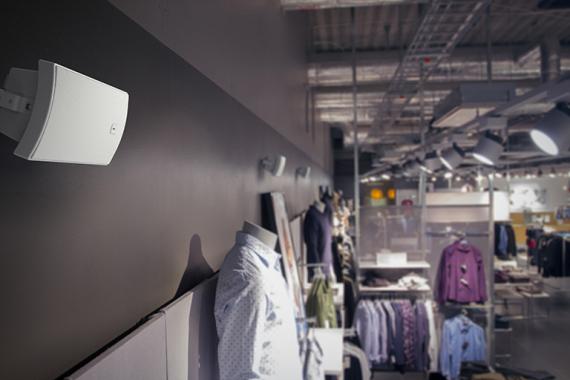 This free 1-day course - Audio-over-IP System Essentials - provides an in-depth understanding of public address and background music systems and their migration from conventional analogue (100v line and low impedance) to Audio-over-IP distribution.
This training course is made up of two sessions (am and pm):
The morning session will address the 'basics of public address / background music' system design and installation - allowing installers and system designers who might be new to audio (such as security / telecoms installers/integrators) to understand audio system components, sound & acoustics and the effects of different applications / environments.
The afternoon session will then apply the essentials of distributed sound to the latest in network audio technology (also known as audio-over-IP); explaining how this latest technology works, differs and can be integrated with conventional audio, as well as covering the different protocols and standards.
Using hands-on demonstrations and real-life project examples, this free professional training academy will also demystify the secrets of I.T. networks and the proliferation of the AVIT relationship.
These sessions offer a balance of hands-on product demonstrations, project analysis and configuration guidance to ensure that delegates complete the course confident in their ability to specify and install high quality Audio-over-IP solutions as part of a professional public address and background music system.
Our team of experts will also demonstrate the full range of AXIS network audio solutions.
Attending delegates will benefit from exclusive introductory special offers on the AXIS range and, on the day, will be treated to free lunch and refreshments throughout the course.
Delegate Achievements (AM Session):
Understand the components of an analogue audio system and system topology

Learn the different types of loudspeakers & microphones and their applications

Understand how environment and acoustics affects sound reproduction

Understand calculation of loudspeaker loads and compatible amplification

Learn the differences between 100v line and low impedance audio systems

Investigate integration with other communication systems (such as CCTV, telephony and induction loops)
Delegate Achievements (PM Session):
Understand how I.P. technology is revolutionising professional audio system design & installation
Understand the different protocols and standards of I.P. networks relevant to audio systems
Gain the knowledge and skills to specify and configure a fully-integrated Audio-over-IP system
Experience a first-hand practical AXIS Audio-over-IP solution
Experience live Audio-over-IP project examples
Gain a hands-on knowledge of the AXIS IP Audio product range and the ability to accurately specify products and total system solutions
CIE presents the I.P. Academies UK Tour for 2018/2019
---
Featured Products: