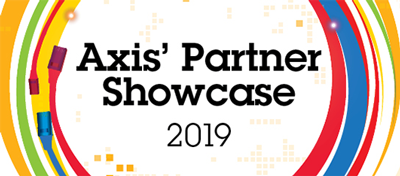 Show Details:
Dates: Wednesday 16th October 2019
Venue: Tottenham Hotspurs F.C.
Join us and our partners Axis Communications at the Axis Partner Showcase 2019.
AXIS' PARTNER SHOWCASE 2019
The Axis Partner Showcase, is the place to see a broad variety of IoT and technology innovation, all under one roof! Expertise from Axis and other technology experts on the world of analytics, hosted services, the latest in detection technology and the future of access control (to name just a few).
This is a must attend event if you are a system integrator, installer, distributor, consultant or end user. Meet up at the show and discover how our industry is advancing, the technology enabling this and the partnerships that will add value to your business.
What will you learn by attending?
How innovation in network video is helping to drive business performance.
Learn about AI, machine learning and deep learning and what the reality is for our industry today
What's new and the future trends in video surveillance.
The programme of events will include the following presentations:
Morphean - Enabling the cloud: Morphean is a high tech company regarded as the European leader in video monitoring and surveillance platforms. We deliver a revolutionary VSaaA (Video Surveillance as a Service) solution that sets the new standard for video protection.
Milestone VMS and Axis' Milestone Optimizer: Milestone designs, develops and produces world-leading IP-based video management solutions for organisations of all shapes and sizes.
Deep learning and AI/machine learning: Today we find Artificial Intelligence (AI) in autonomous vehicles, medical applications, search engines, Virtual Assistants, and image recognition. Or do we? Some people maintain that there is no "real" AI yet and that it will take many years to create a true AI application. Find out how far AI has come and what it potentially can do for society and surveillance.
Technology trends and whats new!
To register your place or to learn more about the day see the buttons below.