Show Details:
Dates: Friday 29th May 2020
Times: 12:30pm ~ 1.30pm BST
Venue: Online Webinar
Cost: Free of charge
Presenter: David Needham, Axis Communications

---
AXIS NETWORK AUDIO FREE WEBINAR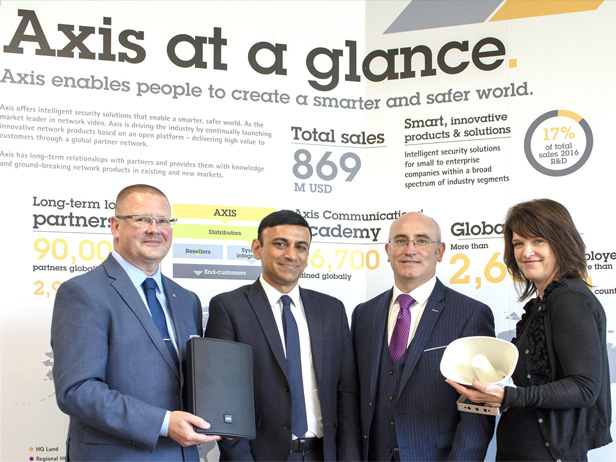 In this webinar you will learn the opportunities and benefits of migrating from analogue to IP-based audio systems.
Audio-over-IP offers easily configurable, easy to install solutions that can work on the same network as video solutions.
Axis Communications is the latest mainstream manufacturer to enter the professional audio over IP market, with huge expertise in the technology as the original creator of IP cameras and CCTV systems. Partnering in the UK with network audio system experts - CIE - this introduction to network audio is a free webinar open to all audio, AV and systems integration professionals.
What will you learn by joining this webinar?
The main benefits of IP over analogue solutions.
Understand the tools available to help you install and design audio solutions.
Understand the audio solutions available from Axis and how they can be used for security, safety, public address and background music.
An audio revolution - 6 reasons to switch to Audio-over-IP
1. Stable and consistent sound quality
One obvious area of audio that is crucial is sound quality. With analogue products a long distance between the speaker and audio source can cause complications and impact sound quality. When sending the audio signal digitally each speaker contains a digital signal processor, which tunes the signal using advanced equalisation, filtering and compression. This clarifies voice and optimizes music to ensure the highest quality sound. By not relying on traditional cables, the audio source can be far away, yet not lose any quality through delivery to the speaker's location.
2. Easy to create network audio zones
In network audio systems, you don't have the limitation of physical speaker wiring, which means the zoning is logical enabling fast and easy system configuration with flexible zoning. Every speaker can be part of multiple zones making it easy to add or remove speakers individually.
3. IP Audio content management
This is ideal in retail environments, for example where stores may be scattered all over the country – or multiple countries – yet content needs to be managed centrally. A networked solution means a head office can centrally control content.
4. Efficient maintenance
In a network audio system, every individual speaker is addressable and monitored over the network. This means, you can use remote IP based health monitoring and configuration of the complete system. The benefit of remote diagnostics can make help make the delivery of your maintenance contract more efficient.
5. Flexible migration from analogue to digital audio
Looking at total cost of ownership, the flexibility of network audio will in most cases outweigh the initial higher spending outlay on hardware compared to analogue. If however an investment has recently been made in analogue audio devices but the flexibility of network audio is needed you can stage the migration and add analogue devices to your network using a network audio bridge.
6. Easy installation and configuration
Power over Ethernet (PoE) powers the IP speakers via the same cable that connects them, eliminating the need to run electrical cables. The consolidation of cables and equipment to just ethernet simplifies maintenance, ensures standardization and reduces the time and cost of installation and configuration.
To register your place for this free network audio webinar, click the button below:

---
Featured Products: