Show Details:
Dates: Thursday 7th November 2019
Times: 9:30~12:00 or 12:00~14:30
Venue: Axis Communications, 1 Capability Green, Luton, LU1 3LU
Cost: Free of charge
Join us and our partners Axis Communications at the Axis Audio-over-IP Training Event 2019.

---
AXIS NETWORK AUDIO FREE TRAINING COURSE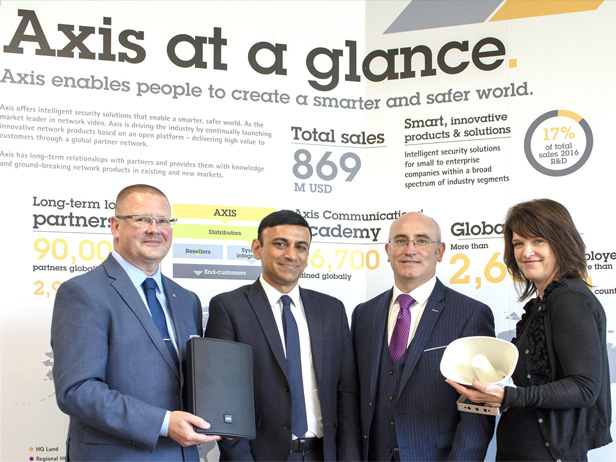 The Axis Audio-over-IP Training Event is all about the Internet of Things and how Audio-over-IP (or Network Audio) is increasingly replacing traditional analogue distributed sound systems.
The key benefit of Network Audio (also known as AoIP) technology is full integration across a business' network infrastructure. Instead of installing/managing different systems for different purposes, IP-based audio technology uses a network signal connection, therefore simplifying the installation, maintenance and operational burdens of analogue audio.
Axis Communications is the latest mainstream manufacturer to enter the professional audio over IP market, with huge expertise in the technology as the original creator of IP cameras and CCTV systems. Partnering in the UK with audio system experts - CIE - this brand new introduction to network audio is a free training course open to all audio, AV and systems integration professionals.
What will you learn by attending?
How innovation in network audio is helping to drive business performance
More about Axis' range of market leading network audio solutions from IP horn to audio speakers
How network audio supports security through measures to deter and active listening
The role of network audio in public address including paging, mass notification and marketing
Why everything's better with background music to enhance the customer experience
How voice, video and data have been the cornerstones of a shift from analogue to digital solutions.
An audio revolution - 5 reasons to switch to IP
1. Easy to install, use and maintain – IP audio systems only require one cable for connectivity, power and communication.

2. Streaming and scheduling capabilities - Systems can connect to any audio source, e.g. streaming services like Spotify for Business.
3. Intelligent systems – Smart zoning capabilities allows users to target announcements at specific areas to target individuals in different zones with particular messages.
4. Improved security - IP audio adds another layer to a connected security network acting as a strong deterrent, for preventing crime.
5. Flexible and future-proofed - As many IP audio systems are based on open standards, they're easy to integrate with existing and new hardware and networks ensuring a system is future-proofed.
To register your place or to learn more about the training, click the button below.

---
Click to download more information on the Axis Network Audio range:
---
Featured Products: